A year in review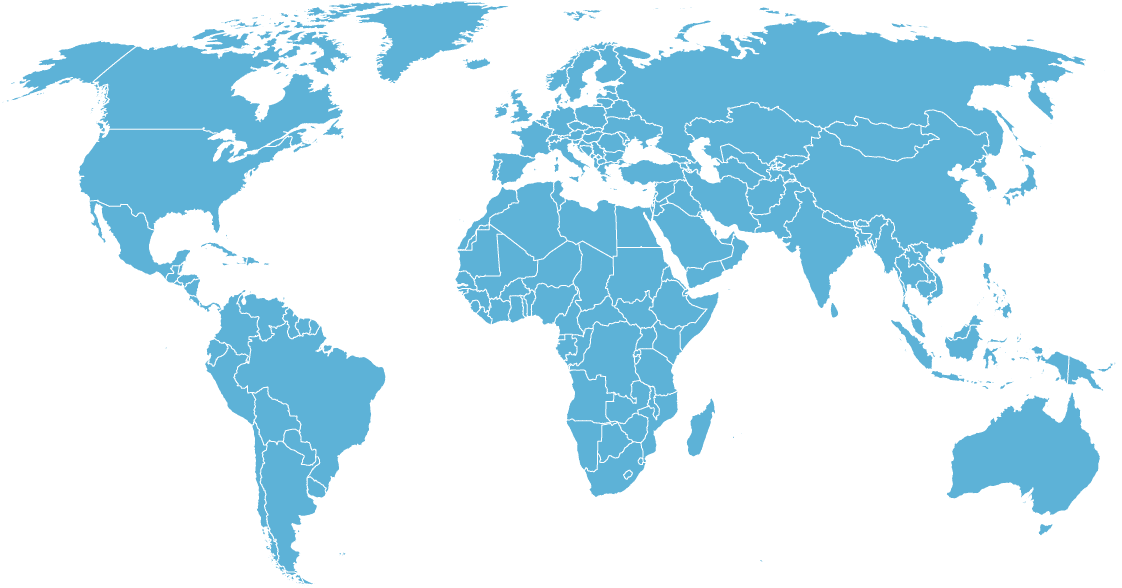 OCTOBER 2014 Winnipeg, Canada
In Washington, United States, IISD and the United Way of Winnipeg (UWW) are honoured with a Community Indicators Consortium Impact Award for 'Peg'. Peg is Winnipeg's community indicator system, developed jointly by IISD and UWW.
FEBRUARY 2015 Toronto, Canada
IISD holds a gala to celebrate the innovative research underway at the IISD Experimental Lakes Area.
SEPTEMBER 2014 London, England
IISD gathers together over 60 civil society organizations from around the world to plan and coordinate joint-actions to support fossil-fuel subsidy reform.
WATCH VIDEO
NOVEMBER 2014 Montreux, Switzerland
IISD's 8th Annual Forum for Developing Country Investment Negotiators hosts 99 participants from 54 countries.
WATCH VIDEO
FEBRUARY 2015 Peru's Nor Yauyos Cochas reserve
IISD pilots CRiSTAL Parks, a tool that helps integrate climate risks into conservation planning.
MARCH 2015 Yaoundé, Cameroon
IISD, the Central African parliament, and the Central African farmers organization, PROPAC, hold a capacity-building workshop on investment contracts for the agriculture sector for parliamentarians and farmers.
MARCH 2015 Beijing, China
IISD releases a timely report on Greening China's Financial System at the China Development Forum.
READ REPORT
IISD's Resilience Program is about achieving sustainable development despite shocks and stresses like climate change, conflict and demographic shifts. We work on the policies, tools and research needed to help societies prepare for, withstand and recover from such disturbances.
2014–15 was an important year for consolidating our work and building a program that reflects our core strengths and emerging interests on resilience. We are focusing on three areas: Climate Adaptation; Environment, Conflict and Peacebuilding; and Food Systems. All three represent specific resilience-related challenges, each defined by particular shocks or stresses, vulnerability contexts, economic sectors, or some combination thereof.
On Climate Adaptation, our largest area of work, we continue to develop and apply innovative tools that help users embed climate risk management into planning decisions. In early 2015, IISD was selected to host the Secretariat for the National Adaptation Plan (NAP) Global Network, a growing group of individuals and institutions working to enhance bilateral support for NAP processes. At the UN climate negotiations in Lima last December, governments recognised NAPs as an important vehicle for delivering resilience. As more and more developing countries work on developing their NAPs, the Network—and IISD—is well-positioned to help advance these efforts.
Climate-resilient peacebuilding
IISD has been at the forefront of international research on the links between climate change and conflict for almost ten years. This past year, our attention shifted away from examining these links and toward what can be done about them: namely, trying to better understand how peacebuilding practitioners, working in fragile states, can integrate climate risks and considerations into their work to ensure that it is sustainable and that it supports the transition from fragility to peace. This is climate-resilient peacebuilding.
A big part of the problem in fragile states is a lack of information about the local climate: weather stations are destroyed, technicians have fled or been killed, and investments have dried up. There is also a lack of capacity, among practitioners, to access, understand and use what little information might exist.
Weather station frequency and land area comparison
USA
---
Canada
---
Central Africa Republic
---
Prince Edward Island (Canada)
---
South Sudan
---
Haiti
Source: http://weather.rap.ucar.edu/surface/stations.txt | World Map by freevectormaps.com
With support from the Government of Denmark, IISD worked with its partners to highlight some of the ways to address this lack of information about the local climate: where practitioners can find the information they need, what it means, and how it can be used to improve the resilience of their work.
Climate-resilient agricultural value chains
To date, little is known about the impacts of climate change along entire agriculture value chains; in other words, on the journey that agricultural products make from production to consumption. IISD has been exploring ways to take a more holistic approach to climate risk management using a value chain approach. Our work goes beyond the evaluation of climate risk at the agricultural production level and involves a broader and relatively new set of actors in climate adaptation, such as food processors, transporters, exporters, mobile phone companies and commercial banks.
Impacts of heavy rainfall on the coffee value chain
Production
Reduced coffee yield and quality
Increased production costs
Reduced income
Increased defaults on inputs bought on credits
Processing & Transportation
Increased breakdown of processing equipment and machinery due to high moisture content of coffee beans
Damage to transport infrastructure
Increased vehicle repair costs due to road deterioration
Reduced income
Marketing
Damage to the reputation of the coffee producer
Reduced competitiveness
Economic losses are passed on to farmers in the form of lower coffee bean prices
In Uganda last year we conducted a pilot in collaboration with the Ministry of Trade, Industry and Cooperatives and Makerere University to document climate impacts on coffee value chains. Our goal is to improve agricultural value chain performance and the well-being of small-scale farmers within the context of a changing climate. We are now expanding this work by focusing on the role of domestic private sector investment in supporting climate risk management along rice value chains.
Coal or renewables? Will the low-carbon economy deliver jobs and new businesses? How can electricity utilities and systems be made financially sustainable, allowing investment to extend access and reliability? How should reserves of coal, oil and gas be managed for sustainable economic growth?
These are questions faced by decision-makers across the world, within a wider challenge to deliver economically, socially and environmentally sustainable economies. And solutions are needed urgently: electricity demand is growing at around 10 per cent per year in many developing countries; the vagaries of global energy markets result in fiscal challenges for energy exporters and importers alike; and greenhouse gas emissions continue to rise.
IISD's Energy Program supports decision-makers to implement change. Over the last year we have worked to understand the impacts of change—both negative and positive—on vulnerable and powerful stakeholders; for example, the women and children who tend to be most affected, and the enterprises that may lose market share or influence. We have proposed and advocated for social safety nets and other options to mitigate adverse impacts. We have developed the plans and communication strategies to move from the accepted rhetoric of sustainable energy for all and reforming harmful subsidies to practical action.
Fossil fuel subsidies
Many countries at least partially increased subsidized prices for fossil energy over the last two years.
• Countries implementing reforms in 2013–2014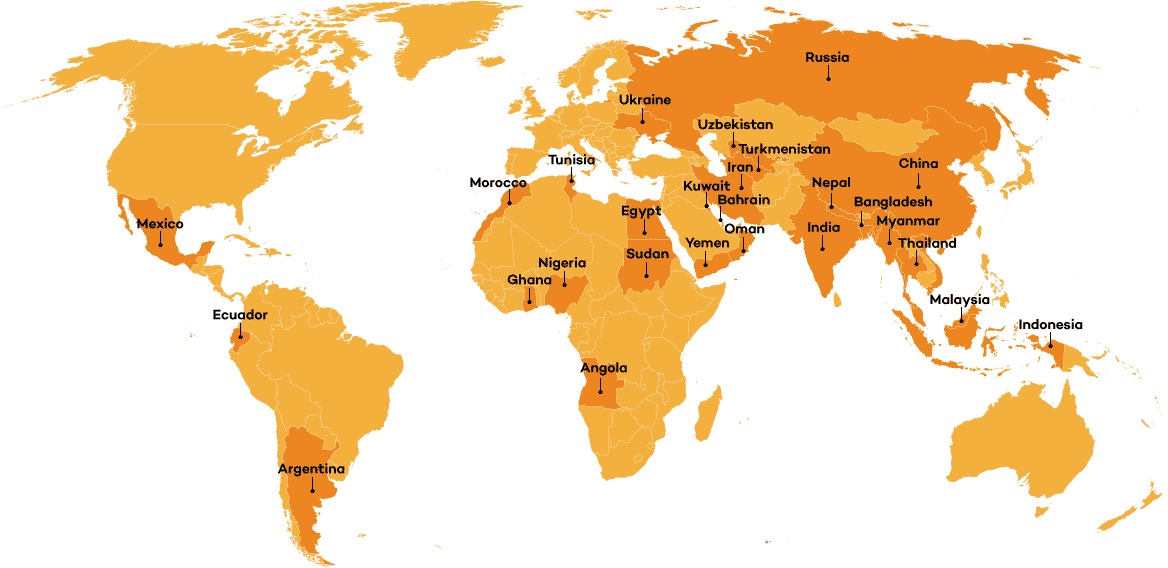 Source: International Energy Agency | World Map by freevectormaps.com
The IISD's Global Subsidies Initiative continues to lead the agenda through innovative research and support to countries.
is the estimated reduction in global greenhouse gas emissions from fossil fuel subsidy reform by 2050, according to a report prepared by IISD and funded by the Nordic Council of Ministers.
Our Energy Program is working to increase commitment and ambition on fossil fuel subsidy reform ahead of the Paris Climate Change Conference, together with the Friends of Fossil Fuel Subsidy Reform.
---
Indonesia
In November 2014 and January 2015, the Indonesian Government introduced price adjustments and large structural reforms to its gasoline and diesel subsidies, saving around US$16 billion. Over the past four years, IISD has worked to support such reforms by providing technocratic analysis to a wide range of government officials on issues spanning the pricing system, the social impacts of reform and how to maximize environmental benefits, in partnership with Indonesian policy experts. IISD has also worked to reduce political opposition to reform by raising awareness and building the capacity of civil society organizations.
Map of Globe of Oceania, Single Color by FreeVectorMaps.com
---
Egypt
IISD worked in Egypt ahead of major fossil fuel subsidy reforms in July 2014. Our work focused on political economy and stakeholder analysis, uncovering the different interests involved and how they could be best accommodated in a comprehensive reform plan. Country-wide public polling and focus group discussions shed light on perceptions and attitudes towards different subsidy reform scenarios. This work culminated in detailed recommendations on the role of communications in supporting reforms in Egypt.
Map of Globe of Africa, Single Color by FreeVectorMaps.com
---
Low-carbon development
Fossil fuel subsidy reform is part of the Energy Program's broader effort to foster low-carbon development in the energy sector. A variety of work on that front has been carried out in Bangladesh, Canada, Morocco, Turkey, Vietnam, and across the North Africa and Middle East Region.
---
Morocco
The Government of Morocco has taken action to step up its efforts to secure more international finance, notably from the Green Climate Fund (GCF). To that end, Morocco launched a Green Investment Plan (GIP) at the 2014 UN Climate Summit in New York City aimed to mobilise international finance to implement its ambitious transition to a green economy. IISD has worked closely with the Government of Morocco in establishing its National Designated Authority to the GCF as well as in the preparation of the GIP. IISD is also supporting the Government of Morocco in its Intended Nationally Determined Contribution (INDC). As incoming President of COP-22, the Government of Morocco intends to present to the international community with an ambitious INDC.
Map of Globe of Africa, Single Color by FreeVectorMaps.com
---
Manitoba, Canada
In March 2014, the Canadian Province of Manitoba affirmed its commitment to the Green Economy by integrating the concept into its annual budget reporting and pledging to "enhance enabling conditions that will generate a positive business environment, build climate resilience, ensure sustained green economic development, and create green jobs for Manitobans." IISD assisted by launching a first-of-its-kind bottom-up consultation process seeking opinions on what a green economy for Manitoba should look like, and developing a set of green economy indicators that the province can use as part of its annual budget and climate change reporting to track progress on low-carbon, climate resilient development.
Map of Globe of Americas, Single Color by FreeVectorMaps.com
Highlights
Reporting Services
For more than two decades, the writers of the Earth Negotiations Bulletin have provided transparency and accountability to international policymaking at the United Nations. Armed with laptop computers, we report from meetings large and small. In September 2014, working with the Executive Office of the Secretary General, IISD Reporting Services had eleven people in all the meeting rooms of the UN General Assembly during the UN Climate Summit, attended by 120 heads of state and government. Our reporting fed directly into the UN Secretary-General's statement at the end of the Summit.
As the UN finishes work on the post-2015 development agenda and the Sustainable Development Goals, which will shape the sustainable development landscape for the next fifteen years, and prepares for a September 2015 summit of heads of state and government to adopt the agenda, IISD has played a crucial role in providing information from numerous meetings held at UN headquarters in New York. From contact groups and informal consultations of the intergovernmental negotiations on the post-2015 development agenda and the UN Statistics Commission's Inter-Agency and Expert Group on SDG Indicators, and preparations for the International Conference on Financing for Development and the High Level Political Forum, our team has been there sending out a steady stream of information around the world on these important meetings that could otherwise go unnoticed.
And now, moving forward into the Post 2015 period, IISD will be there, tracking the implementation of the new SDGs and communicating the sustainable development agenda for the next fifteen years.
Multilateral coverage
The key focus and strength for IISD Reporting Services in 2014 has been to have our flagship publication, the Earth Negotiations Bulletin (ENB), and our knowledgebase driven Knowledge Management division set up comprehensive and streamlined coverage of the Post 2015 process. Our goals have been to enhance the understanding of the Post 2015 governance system while bringing greater transparency and accountability to the process.
Our real-time reporting, tracking, and monitoring of the entire Post 2015 and Sustainable Development Goals process, including ongoing and completed processes, is accessible at: iisd.ca/post2015
Outreach and engagement
IISD Reporting Services maintains 18 email lists connecting regularly with the global sustainable development community, providing them with our reports, meeting coverage, as well as job opportunities.
Coverage of ENB, ENB+ as well as reporting from our knowledge management teams are distributed over Twitter and Facebook on a daily basis. 2014 was our first year of implementation of our new digital engagement strategy, which is having a positive impact on outreach numbers.
In 2014 IISDRS Knowledge Management published:

daily updates over our listservs
A critical way to engage our audience is to publish guest articles on relevant and timely sustainable development topics. Of the 43 guest articles last year, submissions came from prominent members in the field, including: Achim Steiner, UN Under-Secretary General and Executive Director, United Nations Environment Programme; Naoko Ishii, CEO and Chairperson, Global Environment Facility; and Elena Manaenkova, Assistant Secretary General, World Meteorological Organization, and Chair of the HLCP Working Group on Climate Change.
Telling our story
In 2014 Reporting Services engaged the services of Toronto video animation firm Thought Café to create a short video describing our work. It was our intent to create a visual piece that would engage our current and future audiences in understanding the wider importance of our tracking and reporting on multilateral environmental agreement processes.
For over 23 years we have been tracking the story of sustainable development in international negotiations and reporting on it under our flagship publication, the Earth Negotiations Bulletin. Over time we have grown to offer more and this video helps explain the importance of the work that IISD Reporting Services engages in.
The crowning achievements of what proved to be a very successful year for the Knowledge for Integrated Decisions program were two prestigious awards bestowed upon our community indicator project Peg: the Community Indicators Consortium Impact Award in Washington D.C. and the Spirit of Winnipeg Award.
It was also a great privilege to work with the United Nations Environment Programme on aspects of the post-2015 development agenda; specifically by advancing technical and policy aspects of the sustainable development goals (SDGs) and indicators in thematic and geographical contexts, ahead of this critical year for the SDGs.
So much of this work would not have been possible without our numerous partners and collaborators, including within IISD. This year we worked with IISD's Resilience team to advance monitoring of food security at the community level in Honduras, Nicaragua and Guatemala to help policy makers tailor existing indicators for specific community situations.
The Peg
The Peg project (a joint initiative with the United Way of Winnipeg to track Winnipeg's health through a series of community indicators) continued to be a massive success, with many requests to meet with IISD and the United Way of Winnipeg from around the world in order to discuss replicating the project in other cities.
Expressions of Interest in IISD's Community Indicators Work
• Places that expressed interest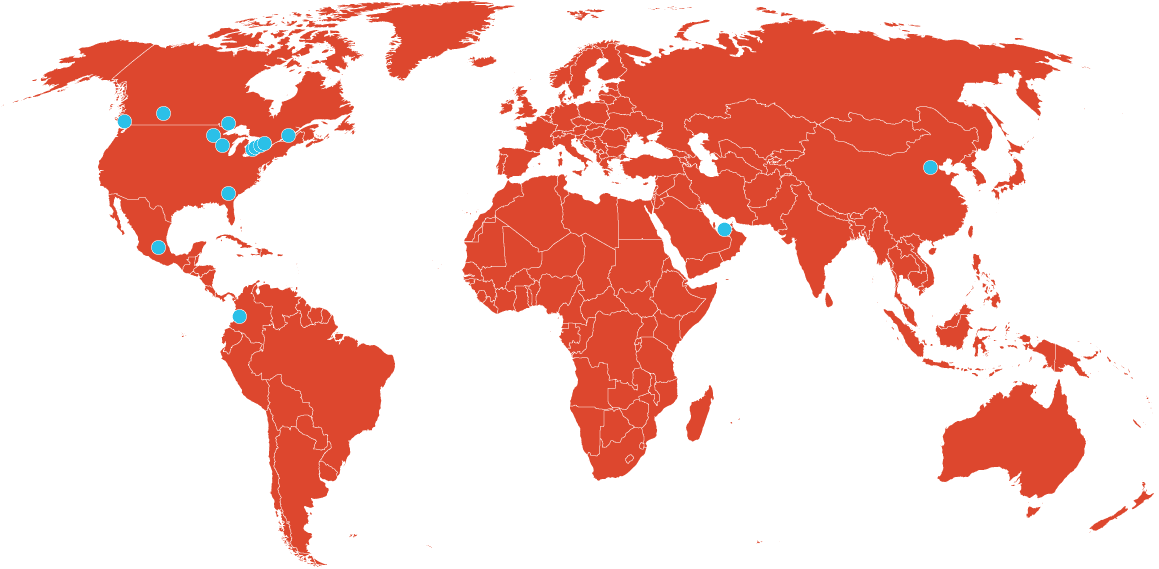 Canada:
Victoria, British Columbia
Calgary, Alberta
Thunder Bay, Ontario
Stratford, Ontario
Oakville, Ontario
Region of Peel, Ontario
Toronto, Ontario
Montreal, Quebec
Elsewhere:
Minnesota, USA
Wisconsin, USA
Georgia, USA
Mexico City, Mexico
Cali, Colombia
Abu Dhabi, United Arab Emirates
China
World Map by freevectormaps.com
the Sustainable Development Goals
This past year we completed a series of regional consultations on the SDGs in Africa, Latin America, the Caribbean and South East Asia and co-hosted workshop with the United Nations Office on Sustainable Development at the Sustainable Development Transition Forum to explore capacity needs for future SDGs.
continents were represented
With the United Nations Environment Programme, we assisted UN Member States in identifying potential indicators for targets proposed under SDG 12 (Ensure Sustainable Consumption and Production Patterns) and for related targets in 12 of the other proposed SDGs.
This past year we have seen some tremendous regional and global initiatives.
In 2014 we acquired the Experimental Lakes Area. Findings from this living laboratory's five decades of rigorous whole-lake experimentation have informed water policy globally. It brings great potential, allowing us to strengthen the link between science and policy work, develop research into some of the more locally (in Lake Winnipeg) and globally pressing issues, and provide educational opportunities.
In Manitoba's watersheds we continued to find innovative ways to convert under-utilized plant sources into environmentally-friendly sources of bioenergy, all while capturing nutrients for fertilizer. Our groundbreaking work harvesting cattails and converting them into pellets for energy has proven a viable alternative to traditional fossil fuels. Replicating this idea with the City of Winnipeg has resulted in reduced waste, nutrients and a local source of clean energy.
Moving into global arenas, this year not only resulted in signing MOUs with Lake Chao in China and Lake Chad in Africa, but work in places like Suriname, for assessing water-energy-food in the context of mining and developing indicators for ongoing monitoring with our Knowledge Program; or looking at water implications in the contract of electricity subsidies or investment contracting with other IISD programs.
IISD Experimental Lakes Area
On April 1, 2014, IISD was proud to take over the operation of the world-class whole-lake experimentation research facility in northwestern Ontario, Canada, and become its operator. Now called IISD-ELA, the site has been producing groundbreaking research into freshwater for almost half a century, and IISD is now able to expand its legacy with new research that confronts the most pressing environmental crises that threaten our world head on, as well as offering new educational and engagement opportunities.
IISD-ELA by the numbers
1968
First year of operation at the Experimental Lakes Area

Individuals to visit or work at IISD-ELA in the past year

Number of lakes (and their watersheds) comprising IISD-ELA

Individuals from around the world who donated to our highly popular Indiegogo campaign in May 2014

The number of the lake used in the groundbreaking experiment that initially proved that phosphorus was the main cause of algal blooms, leading countries around the world to take steps to reduce the amount of phosphorus entering waterways

Person days of IISD-ELA site usage during the May-October 2014 research season

number of successful research seasons completed since IISD took over operation of the facility
The IISD Experimental Lakes Area
IISD-ELA uses innovative fish tracking technology to follow the movements of individual fish in several ELA lakes throughout the year. Below you can see an example of one lake trout's travels over three day periods in May and October 2014.
LAKE 373
depth: 21 m
Spring
Fall
The journeys in spring are marked by the yellow points. Lake trout need to live in cold water, and in the spring before the lake warms up, the fish can travel all over the lake in search of prey such as minnows. The fish's trips in the fall are marked by the dark points. At this time of year, lake trout spend much of their time at or near the spawning shoal.
Cattail Harvesting
Cattail harvesting and processing is a unique and creative way of working with cattail (and capturing phosphorus) that results in clean, organic energy. It is an innovative initiative from our Water Program (with partners) that will hopefully capture a market share once it is market ready.
1

Cattail Harvest

Cattail absorbs phosphorus (P) and other elements such as nitrogen, storing these nutrients in its leaves and roots in the spring and summer. Harvesting cattail in late summer/early fall removes P before it can be released back into the water (e.g. through decomposition), where too much P can cause algal blooms in water bodies such as Lake Winnipeg.
Fact:
Around 2.2kg of P are stored and captured per tonne of harvested cattail biomass. That's 33 kg of P prevented from entering the Lake per hectare of cattail!
Phosphorus, Nitrogen
2

Pellet creation

The cattail plant is dried, shredded, and then converted into pellets and other fuel products.
Fact:
IISD and partners were able to generate CAD $131,250 in carbon credits when we harvested a 350-hectare site of cattail.
3

Bioenergy

The burning of cattail pellets is a form of bioenergy. Not only is it better for the environment than many other forms of fossil fuel energy but it is also a renewable resource as the cattails grow back the next spring. The use of biomass based energy products can create revenue through carbon credits.
Fact:
Every tonne of cattail biomass used as an energy source could replace 0.54 tonnes of coal.
4

Fertilizer

Burned cattail pellets produce ash that is still rich with phosphorus. This ash can be recycled and used as valuable fertilizer. Phosphorus is an essential part of a plant's growth process.
Burned cattail ash
used as fertilizer
Fact:
On average it costs CAD $50/kg to remove phosphorus from a watershed using this method. That's compared to $1000/kg for conventional water-treatment methods.
Water-Energy-Food Nexus work in Suriname
IISD's Water Program explores the complex relationships between water, energy and food (also called the WEF nexus) that are often overlooked in narrowly focused assessments, investments and policies. Some of this work is taking place in Suriname, especially in the mining industry, in partnership with our Knowledge for Integrated Solutions program.
Interlinked systems of water–energy–food must all be considered in the context of mining, agriculture and other development to achieve true sustainable development.
---
Water is used for energy production
---
Energy is needed for water treatment, distribution and more
---
Food often drives energy production and distribution
---
Energy is needed for food production, processing, transportation, etc.
---
Water is needed for food production
---
Food production and processing affect water availability and quality
Highlights
Economic Law and Policy
Sustainable development demands new thinking in the design and implementation of investments to ensure long-term economic and social benefits without compromising the natural environment. In 2014–15 IISD's Economic Law and Policy Program achieved key accomplishments in the areas of economic policy-making that promise some of the greatest gains for equitable growth and environmental sustainability.
Responding to requests and needs of developing country governments faced with food security pressures and the need for agricultural investments, we have developed a model agricultural investment contract. The model provides much-needed options on how to design investment projects so that they deliver economic and social benefits to developing countries and local communities in accordance with environmental prerogatives.
This past year we also maintained our focus on the mining sector, addressing the asymmetries in knowledge and capacity between developing country governments and mining companies. Towards that end, we conducted several training courses aimed at building the capacity of developing country officials in Africa to negotiate and design deals in the mining sector in a way that maximizes the opportunities for sustainable development. We also continue to monitor and analyse how voluntary sustainability standards are developing over time, both in terms of the systems they deploy and the market impacts that they have.
Green Public Procurement in Bhutan
In 2014 IISD launched a three-year project, funded by the European Union, on scaling-up public demand for environmentally and socially preferable goods, services and infrastructure in Bhutan. Green Public Procurement Bhutan provides a cross-cutting industrial strategy to support Gross National Happiness and 'The Middle Path', which together form the core of Bhutanese development priorities.
people
attended the official launch of the GPP Bhutan project, representing:
Energy Efficiency in India
IISD provided 10 Big Ideas for Making Energy Efficiency Bankable in India in 2014. Attracting more investment for energy efficiency is important because:
It is estimated that
megawatts
of generating capacity
and $42 billion
could be saved per annum by improving energy
efficiency in India.
---
5%
of India's potential energy saving capacity was tapped at the beginning of 2014
⅓
or more of India's rural population DOES NOT
have access to electricity
Investment treaties
For over a decade IISD has been a thought leader on the reform of the laws and policies that govern investment. And over the years we have worked with dozens of governments and hundreds of policy makers to put those ideas into practice. In 2014-15 IISD's investment team worked with:

developing country officials
That work is paying off. Numerous countries are taking action and moving towards a more sustainable investment model. Examples over the last year include:
---
Southern African Development Community (SADC)
After working with the SADC Committee on Investment on an innovative template for negotiating investment treaties for sustainable development, we were invited to facilitate a review by SADC Member States of the current Finance and Investment Protocol to bring it into line with their regional sustainable development priorities. We continue to provide legal advice into this process.
Map of Globe of Africa, Single Color by FreeVectorMaps.com
---
Myanmar
A reform process began in Myanmar in November 2010, when military rule was replaced by a new military-backed civilian government. The transition requires a review of international and national legal structures on investment. IISD is working with the government and UNDP to ensure that the new investment frameworks contribute to a sustainable future for the country and its citizens.
Map of Globe of Asia, Single Color by FreeVectorMaps.com
---
European Union
The European Union is taking steps to address some of the weaknesses in the current investment treaty framework, including with respect to the way investment disputes are currently being settled. IISD has contributed constructively in the ongoing reform debates by analysing negotiating drafts and providing alternative approaches for policy makers and interested civil society groups.
Map of Globe of Europe, Single Color by FreeVectorMaps.com
---
Green finance in China
Two years ago IISD began working with Chinese authorities to focus on how reforms to the financial system could speed the transition to green development. At the time, green finance was regarded at best as a curiosity—as a niche operation that, as has happened elsewhere, might create a satisfactory trickle of investment into green projects. As this work progressed, however, the topic began to move rapidly from the blurred edges of the radar screen to the centre of attention.
IISD's most recent contribution to the field, Greening China's Financial System, was launched at the China Development Forum, the country's top annual policy event, in March 2015.
Watch how green finance can help drive investment in the right direction:
IISD Members of Staff
2014–2015
Rod Araneda
Ahmed Babou
Sumeep Bath
Christopher Beaton
Nathalie Bernasconi-Osterwalder
Livia Bizikova
Richard Bridle
Lasse Toft Christensen
Katherine Clark
Kieran Clarke
Diane Conolly
Jennifer Covert
Maxine Cunningham
Ramon Dator
Julie Dekens
Maria Dela Cruz
Fariba Di-Benedetto-Achtari
Jason Dion
Lael Dyck
Daniella Echeverría
Janice Gair
Philip Gass
Joel Gendron
Ivetta Gerasimchuk
Pauline Gerrard
Kimo Goree
Karen Goulding
Richard Grosshans
Mark Halle
Anne Hammill
Garth Hardy
Melissa Harris
Hans Herrmann
Mariana Hug
Gabriel A. Huppé
Lucy Kitson
Faye Leone
Kimberly Lewtas
Tilmann Liebert
Jason Macki
Angela Marceniuk
Victoria Mark
Steve Marr
Matthew McCandless
Laura Merrill
Christina Moffat
Grace Mota
Elias Mukozi
Jo-Ellen Parry
Elka Parveva-Kern
Oshani Perera
Jacqueline Pilon
Deborah Roosen
Dimple Roy
Katia Salerno
Myriam Schmid
Mirela Sterjo
Shelly Swidinsky
Kyle Swystun
Flavia Thomé
Charles Thrift
Joel Trenaman
Laura Turley
Henry Venema
Brad Vincelette
Damon Vis-Dunbar
Jun Wei
Peter Wooders
Alicia Natalia Zamudio
Joe Zhang
Karla Zubrycki
Associates and Advisors
Karen Alvarenga de Oliveira
Mark Anielski
Efrain Arrivillaga
Stephan Barg
Dale Beugin
Jonathan Bonnitcha
Martin Brauch
David B. Brooks
Liesbeth Casier
Pamela Chasek
Luke Cheng
Aaron Cosbey
Alec Crawford
Heather Creech
Carlos A. Domínguez
Angie Dazé
Frédéric Gagnon-Lebrun
Vibhuti Garg
Peter Hardi
Jan Felix Koebbing
Tara Laan
Michelle Laurie
Richard Lawford
Andrew A. Lennox
Howard Mann
Scott McFatridge
Tom Moerenhaut
Deborah Murphy
Ingeborg Niestroy
Suzy Nikiema
Håkan Nordström
Leslie Paas
Jean Perras
Jim Perry
Joe Petrik
Francine Picard
Jason Potts
Daniel Rubenstein
Marina Ruete
Doug Russell
Todd Scaletta
Cory Searcy
Sabrina Shaw
Carin Smaller
Robert Smith
Seton Stiebert
Dagmar Timmer
Bishunarine Tulsie
Stephen Tyler
José Ugalde
Martin Ulrichs
David Uzsoki
Vivek Voora
Robert Wolfe
Kelly Yu
IISD Experimental Lakes Area
Ken Beaty
Graham Blakelock
Meghan Borland
Sandra Chalanchuk
Colin Charles
Andrew Chapelsky
Gerald Fitzgerald
Soleil Grise
Lauren Hayhurst
Sonya Higgins
Scott Higgins
Lee Hrenchuk
Donna Laroque
Mark Lyng
Matt McCandless
Roger Mollot
John Neall
Michael Paterson
Stephen Paterson
Brandon Penfold
Michael D. Rennie
Chandra Rodgers
Mark Unger
Reporting Services
Soledad Aguilar
Oluwatomilola Akanle
Jennifer Allan
Lauren Anderson
Beate Antonich
Asheline Appleton
Melanie Ashton
Paula Barrios
Nienke Beintema
Rishikesh Ram Bhandary
Dan Birchall
Alice Bisiaux
Pamela Chasek
Vivienne Caballero
Qian Cheng
Claudio Chiarolla
Jennifer Covert
Joanna Dafoe
Deborah Davenport
Nicole de Paula Domingo
Francis Dejon
Richard de Ferranti
Daniela Diz Pinto
Peter Doran
Louison Domain
Noha El Hadad
Angeles Estrada
Socorro Estrada
Lynn Finnegan
Bo-Alex Fredvik
Olivia Freeman
Claudia Friedrich
Mongi Gadhoum
Myriam Gadhoum
Sandra Gagnon
Johannes Gnann
Tasha Goldberg
Kimo Goree
Marlene Grundström
Maria Gutierrez
Reem Hajjar
Kate Harris
Dina Hestad
Camellia Ibrahim
Cherelle Jackson
Harry Jonas
Stefan Jungcurt
Resson Kantai
Tallash Kantai
Pui Khemaros Haight
Pia Kohler
Vijay Kolinjivadi
Hélène Kom
Elena Kosolapova
Kati Kulovesi
Ana Maria Lebada
Alexandra Lefevre
Jennifer Lenhart
Faye Leone
Elaine Limjoco
Veronica Lo
Kate Louw
Mari Luomi
Suzi Malan
Jonathan Manley
Leila Mead
Alice Miller
Chad Monfreda
Elisa Morgera
Mike Mouzourakis
Diana Movius
Wangu Mwangi
Ryo Nakamura
Gillian Nelson
Kate Neville
Diego Noguera
Erendira Garcia Nunez
Dorothy Nyingi
Kate Offerdahl
Olivia Pasini
Delia Ruth Paul
Teya Penniman
Elizabeth Press
Gmelina Ramirez-Ramirez
Eugenia Recio
Keith Ripley
Nathalie Risse
Tanya Rosen
Liz Rubin
Laura Russo
Annalisa Savaresi
Nicole Schabus
Maja Schmidt-Thomé
Mark Schulman
Anna Schulz
Mihaela Secrieru
Anju Sharma
Ruth Robinson Smith
Yixian Sun
Hussain Talabani
Daniela Tarizzo
Jessica Templeton
Asterios Tsioumanis
Elsa Tsioumani
Tristan Tyrrell
James Van Alstine
Annelies van Gaalen
Cleo Verkuijl
Antto Vihma
Brad Vincelette
Ingrid Visseren
Lynn Wagner
Catherine Wahlen
Jaime Webbe
Brett Wertz
Liz Willetts
Nancy Williams
Virginia Wiseman
Peter Wood
Kiara Worth
Sean Wu
Board of Directors 2014–2015
Daniel Gagnier
Chair
IISD Board of Directors (Canada)
Scott Vaughan
President and CEO
IISD (Canada)
Lloyd Axworthy
Former President
University of Winnipeg (Canada)
Maurice Biron
President
Nativest Inc. (Canada)
Stephanie Cairns
Principal
Wrangellia Consulting (Canada)
Pedro Moura-Costa
Co-founder
EcoSecurities & Founding Partner, E2 (Brazil)
Michel De Broux
Lawyer, Former VP
Hydro-Quebec CapiTech Inc. (Canada)
Hugo Delorme
Director, Government Relations
NATIONAL (Canada)
Emmanuel Ikazoboh
Chairman/CEO
Hedonmark Management Services (Nigeria)
Leiv Lunde
Former Director
The Fridtjof Nansen Institute (Norway)
Andrea Moffat
Advisor
Ceres (Canada)
Patricia Moles-Rivero
Former Brazil Country Manager
Petra Foods Pte (Brazil)
Papa Kwesi Ndoum
CEO
First National Savings and Loans (Ghana)
Jiahua Pan
Director
Institute for Urban and Environmental Studies, Chinese Academy of Social Studies (China)
Emmanuelle Sauriol
Former General Manager
LVM Ltd (Canada)
Bruce Schlein
Director
Corporate Sustainability, Citi (USA)
Vicky Sharpe
Former President and CEO
Sustainable Development Technology Canada (Canada)
Ian Stewart
Businessman and Venture Philanthropist
(Switzerland)
Emőke J.E. Szathmáry
Former President Emeritus and Professor
University of Manitoba (Canada)
Felix von Sury
Former Executive Director
Intercooperation (Switzerland)
Michael Vukets
Founding Partner
Michael Vukets & Associates (Canada)
Robert Walker
Vice President
Ethical Funds and Environmental, Social and Governance Services, NEI Investments (Canada)
Erna Witoelar
Member of Executive Board
Indonesia Biodiversity Foundation (Indonesia)
Alan Young
Director of Secretariat
Boreal Leadership Council (Canada)
Senior Fellows
Robert B. Brennan
John Drexhage
Alfred Duda
John Forgách
Richard Matthew
Thomas A. Myers
Adil Najam
Michael Paterson
László Pintér
Robert B. Repetto
Vicky Sharpe
Harsha V. Singh
Jan van Schoonhoven
Simon Zadek
Friends of the Institute
Gro Harlem Brundtland
Gary Filmon
José Goldemberg
Jim MacNeill
Brian Mulroney
Shridath Ramphal
Maurice Strong
Advisory Participants
Grant Doak
Stephen McGurk
Distinguished Fellows
Jacques Gérin
Arthur J. Hanson
Jim MacNeill, Chair Emeritus
David Runnalls
Mohamed Sahnoun
Maurice Strong
Franz Tattenbach
2014–2015 Designated Grant Revenue by Donor
• Governments and Agencies, International: %
• United Nations Agencies: %
• International Organizations: %
• Philanthropic Foundations: %
• Private Sector and Other: %
• Governments and Agencies, Canada: %
---
2009–2015 IISD Financing Trend